Super White Quartzite – Everything You Need To Know
Super White Quartzite is an increasingly popular trend both among homeowners and interior designers. With its durability, ease of maintenance, stylish appearance, and sophisticated marble look, Super White Quartzite is a perfect choice for a kitchen countertop.
Although a lot of people are absolutely in love with the looks of Super White quartzite countertops, they aren't quite sure what kind of a stone Super White actually is. Because of a lack of information, one can bring a wrong decision. This is why we will make sure to give you all the information about Super White Quartzite countertops needed for a well-informed and well-thought decision for your kitchen remodel.
What is Super White Quartzite?
Some call it Super White Granite, White Fantasy Quartzite, Super White Marble, American Marble, dolomite, or just Super White or Superwhite quartzite. Maybe because of the fact that "it looks like marble but wears like granite" it often falls into one of these two stone categories. The truth is – Super White is neither. Calacatta Super White Quartzite, Super White Granite Countertops, are also some of the common misconceptions. There is also a question of whether it's Super White Quartzite or Dolomite. The truth is – Super White is neither.
Quartz vs Super White. Quartz is man-made. Super White is a natural stone.
Granite vs Super White. Single slab granite is a felsic intrusive igneous rock. Super White is a metamorphic rock.
Marble vs Super White. It is metamorphic just like marble but is much harder than marble.
Super White is quartzite or, as some geologists call it, dolomitic marble. White quartzite stone is a hard, non-foliated metamorphic rock that was originally pure quartz sandstone. Sandstone is converted into quartzite through heating and pressure usually related to tectonic compression within orogenic belts. Pure quartzite is usually white to gray, though quartzites often occur in various shades of pink and red due to varying amounts of iron oxide. Other colors, such as yellow, green, blue, and orange, are due to other mineral impurities. On the Mohs test that measures how hard material is, quartzite got a hardness mark of 8 from 10. This actually means that it's harder than glass and can actually cut it.
Super White Quartzite is a light-colored stone – a compact, coarse metamorphic rock. Quartzite Super White possesses small to intense veins in light, medium, or dark colors. Shades may vary from white to really light tones of beige or gray. In its purest form, Super White Quartzite is as white as marble and can be confused with a Super white marble slab. However, the impurities give Super White quartzite some amazing patterns and swirls.
This quartzite that looks like Carrara marble is sometimes also called Fantasy White Quartzite or White Vermont Quartzite. However, they are basically the same stone.
What is the Difference Between Quartzite and Granite
Granite is a felsic intrusive igneous rock while quartzite is a metamorphic rock. Granite is more commonly found in nature than quartzite while quartzite consists of more quartz than granite. Quartzite forms from quartz and sandstone combined under pressure and heat combined. This means that quartzite is slightly harder than granite. Mohs scale of hardness proves this statement. On its scale from 1 to 10 with 10 being the hardest, and 1 being the softest, quartzite measures at around 7, while granite measures in at about 6. However, both granite and quartzite are very resistant to etching, extreme temperatures, and chemicals if properly sealed. Sealing will prevent substances like coffee, citruses, and wine to stain the surface. It will also protect the countertop from scratches.
Both granite and quartzite sparkle, have gorgeous veining, and an abundance of flecks and various shades that come from recrystallized quartz. However, quartzite is commonly lighter and resembles marble more than granite. Granite usually features white shades in combination with other, darker and stronger shades that end up dominating it. Quartzite if the right choice for you if you prefer light, marble-look counters while granite is best for those who prefer a traditional look.
If you hear about super white granite countertops, know that this is Super White Quartzite, not granite. The difference between granite and quartzite is clear because granite is a felsic intrusive igneous rock while Super White quartzite is a metamorphic rock. Sometimes though, white granite that looks like marble may confuse you. Super White Quartzite can be mistaken for White Fantasy Granite or Supreme White Granite because of its looks. But when you compare Super White Quartzite to White Fantasy granite, Supreme White granite or Pure White granite, you'll be able to see the difference clearly.
Get inspired by more beautiful white stone countertops with Calacatta Quartz & Carrara Quartz for Gorgeous Kitchens.
What is the Difference Between Quartz and Quartzite?
To answer the question is there a difference between quartz and quartzite, it is most important to compare the structure and appearance of these two stones. The most important difference between quartzite and quartz is that quartzite is a natural stone while quartz is an artificial, man-made stone material. After a natural process of heat and pressure, sparkly quartz crystals of sandstone form quartzite. When creating Quartz countertops, fabricators use quartz crystals that are found in natural quartzite. However, they also add pigments, resin, bits of glass, and other materials during the manufacturing process to customize the look of quartz, making it more durable, non-porous, and easy to maintain.
When it comes to appearance, quartzite is typically light gray and white, with swirls and shades of colors in between. Red, brown, pink, and gold hues come from minerals in this natural stone. Natural quartzite stone looks like granite or marble because of its patterns, veins, movement, colors, shades, and hues. Because it's man-made, quartz countertop stone can look like any stone — granite or marble. Those who prefer a steady and consistent pattern and movement adore quartz.
Both quartzite and quartz are durable. However, quartz is less dense than quartz and therefore requires some more care, especially in busy areas and heavy-use kitchens. Just like you would seal granite, you will need to seal quartzite too, to prevent staining its surface. When sealed, quartzite is super resistant. If you choose quartz stone, you get a countertop surface that requires no maintenance whatsoever, except daily cleaning with warm water and mild detergent. However, different finishings will require more or less maintenance, so make sure to set the right expectations with your fabricator.
Browse our Quartz Countertops collection.
How Lasting and Enduring Super Quartzite Countertops White Actually Are?
Super White is beautiful like marble but is much more durable.
It is naturally stain-proof.
Etching it with water or anything acidic is impossible.
It is a strong and very durable natural stone.
High functionality is one of its main characteristics.
However, quartzite isn't indestructible. If you hear that someone's quartzite countertop etches, be assured that this countertop is not purely and 100% quartzite. Quartzite stone countertop is an amazing choice for a kitchen countertop only in its pure form because it can cut glass tile, just like granite can. This is why it is so important to have all the information about Super White Quartzite and know which questions you should ask your fabricator and get facts.
Super White Quartzite Kitchen Care and Maintenance
You need to seal Super White Quartzite kitchen countertops regularly to help protect them from etching and staining. When you purchase it, your installer will seal it. You should take care to seal it periodically, ideally once a year using home application products. You can also always opt for professional service but this is a more expensive option.
On an everyday basis, Super White quartzite kitchen countertops cleaning is simple and easy. Make sure to wipe spills as soon as possible and use trivets for hot pots and pans. It is very easy to clean. Basically, do all the things you would normally do with any other kitchen countertop material – granite, marble or quartz.
Quartzite may etch due to acid and other harsh substances if not properly protected. You can keep your quartzite countertop looking great and serving you well longer by hone finishing it rather than applying a polish finish. Hone finish is not as reflective and glossy as a polished option, but it's much easier to perform the finishing process. The harder the stone is, the more difficult it is to polish it. Honing quartzite can prevent etching because this honed stone is flatter and smoother than a polished stone.
Learn all about White Quartz Countertops.
Super White Quartzite Cost
How much does quartzite cost?
You can find the best Super White Quartzite cost at Aqua Granite Kitchen and Bath Design Center at $105.00 sq. ft installed which is an affordable quartzite cost. We are professional fabricators who cut, edge and fabricate the countertop in-house at our facility. If you decide to purchase multiple slabs, the cost per square foot for Super White can be discounted. Contact us today to schedule an appointment. Get one of the most affordable quartzite prices.
Super White Quartzite Durability
Super White Quartzite durability is well-known. Super White is not popular only because of its modern looks but also because of its amazing durability. It is hard, resistant to heat and scratches, and water absorption. A wonderful thing about Super White is that it looks like marble but wears like granite. For extra protection, choose honed instead of polished finish. Another thing to do in order to increase Super White Quartz durability is to add a stone sealant as an extra layer of protection.
Super White Quartzite Reviews
In Super White Quartzite reviews, the most common confusion is what kind of stone Super White actually is. A common fear expressed in Super White Quartzite reviews is that this stone is not hard enough. These misconceptions come mostly because of the Super White's look. A stone that looks that close to marble but behaves like a much, much harder granite simply sounds like a dream and must raise suspicion. Our advice is to always do thorough research and to talk to a local fabricator. Gathering all the facts will help the decision-making process.
Super White Quartzite reviews also tell us about different experiences people had with this stone. Experience tells us that Super White should be sealed to help protect the surface from staining and etching. The sealer should be re-applied periodically after that, approximately once per year. Many people say in Super White Quartzite reviews that spills should be wiped up as soon as possible. A trivet for hot pots and pans is also highly recommended in Super White Quartzite reviews.
Learn all about Quartz That Looks Like Marble.
Super White Slabs Amazing Looks
The superior white look of the Super White slab is the first thing that catches an eye at a slab yard. This gorgeous, light-colored stone has everything that any modern kitchen needs. It provides simplicity, class, and elegance, and goes amazingly well with any kitchen cabinet colors and designs. Super White Quartzite in its pure form will give your kitchen the looks of the most sophisticated white marble and the quality of white granite at the same time. Its surface durability may even be increased if it's finished to increase antibacterial, scratch, heat, and stain-resistant characteristics.
Super White Quartzite Project by Aqua Kitchen and Bath Design Center
Being able to make kitchens and people's lives more beautiful makes us very happy and proud. The project we have recently done shows just how elegant and fashionable but also timeless looks Super White Quartzite in a white kitchen.
Super White in combination with white kitchen cabinets, stainless steel appliances, and minimalist kitchen decoration, catches your eye and becomes a real star in this kitchen.
Contact us today for your project with Super White Quartzite. We can also provide you with other quartzite options like Fantasy Brown soft quartzite, Macaubas Quartzite, or Taj Mahal Quartzite.
Super White – Designers' Dream
Interior kitchen designers and builders love to use Super White. Flowy, soft veining, and amazing white and gray shades are in high demand both with homeowners and designers. Here are some designer examples of how to use Super White in your home designs.
Project Designers at Design Build Pros from Red Bank, New Jersey, love to use Super White quartzite countertops in their kitchen designs. Here, they combined it with glass tile backsplash, under cabinet lights, and outlets.
They are also open to using Super White in their bathroom designs. This contemporary bathroom owes its spa style to this dreamy Super White slab.
Michelle Winick from Michelle Winick Design NJ also uses Super White in her kitchen designs. This contemporary kitchen design with white kitchen cabinets and a dark island is perfectly completed with Super White countertops.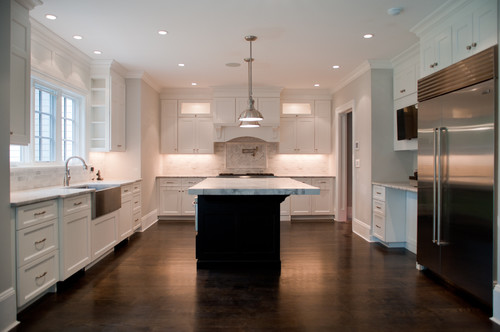 Jules Duffy Designs from Madison, New Jersey created this absolutely lovely beach house kitchen. The cooking space is flooded with ethereal light and beautiful breezes. Super White only helps this overall effect in the kitchen design.
White shaker cabinets in this kitchen are paired with a white beveled subway-tiled backsplash. A center island is topped with a Super White Quartzite countertop and fitted with a sink and gooseneck faucet. This is an excellent example of how effective Super White is in an all-white kitchen.
Super White also works well in white and gray combinations. A big gray kitchen island is topped with Super White Quartzite in a honed and leathered finish.
It fits perfectly both in modern and traditional kitchen designs. Here is an example of a traditional kitchen remodel with Super White countertops, limestone tile, and a farmhouse sink.
Other colors like blue and brown in combination with white also help a kitchen design to define its multiple functions. It just seems as if there is no better solution for the prep kitchen island than Super White Quartzite in this wonderful kitchen full of sunshine.
You can see Super White in one of its purest white patterns in this kitchen with crisp white cabinets and brilliant brass fixtures. Thanks to it, this elegant white kitchen has that wow factor we all desire to see.
Dark gray cabinets paired with Super White Quartzite and a Carrara marble tumbled tiled backsplash. You can see how Super White easily balances the contrast between dark and light kitchen cabinets.
Frequently Asked Questions about Super White Quartzite Answered

Is Super White quartz, granite, or marble?

No dilemma there anymore. Quartz is man-made. Super White is a natural stone.
Granite is a felsic intrusive igneous rock. Super White is a metamorphic rock.
It is true that Super White has a marble look, but its durability and ease of maintenance, as well as resilience to scratches and stains differ it from marble. Super White is quartzite, a natural, metamorphic rock that started out as sandstone.

Is Super White quartzite or dolomite?

You'll hear this question a lot. Is Super White quartzite or dolomite is a question that bothers stone fabricators, as well. Super White is a natural stone. Some say that Super White is a dolomite marble, not quartzite but that it still contains some quartzite within. When you compare it with other quartzite countertop stones, you'll see how Super White is similar to them.

Quartzite vs Granite – what to choose for my kitchen?

Both stones require yearly sealing and a minimum of maintenance. Both stones look absolutely fantastic in any kitchen. Quartzite has a more uniform look while granite has more movement and you can choose from many color and pattern options. It comes down to what look you prefer for your kitchen. If you come across Super White Granite when deciding on quartzite vs granite for your kitchen countertops, be aware that there is no Super White Granite, only Super White Quartzite. You may think Super White is white granite that looks like marble because of its sensational looks, but it's not. Super White is a natural stone, just like granite and marble, but it's much more durable and harder than marble. Granite and quartz have similar characteristics but still, there are differences. Make sure to ask your fabricator what is exactly the material you are looking at, what are its characteristics, how durable it is, what are its maintenance requirements, and how should you care for it.

Quartzite vs Quartz – what to choose?

Quartzite is a natural stone and generally comes in white and gray colors. Each slab is different and it can be more white or grayer, with less or more veining and hues of grays. Quartz is a man-made product and comes in a much wider range of colors. Both quartz and quartzite are hard. However, a plastic resin is used in manufacturing quartz and this is why it is prone to melting above 300 degrees Fahrenheit. On the other hand, quartz is more flexible but can be scratched by sharp objects as well as quartzite. Minimum maintenance is a must for both kitchen countertops.

Quartzite vs Marble – what is better?

No doubt here – quartzite is a much better and safer option. Why go with marble when you can have both the marble looks and better durability at the same time? Marble will stain from anything acidic, it will scratch and it requires a lot of attention and maintenance. Super White Quartzite gives you the look of Carrara White marble with enhanced characteristics and quality.

What is Quartzite?

Quartzite was originally pure quartz sandstone. Through the processes of tectonic pressure and compression and heating, it was transformed into quartzite. Quartz grains recrystallize and form an interlocking mosaic of quartz crystals and the grainy, rough surface of sandstone becomes smooth and glassy. The lenses and streaks in quartzite stone come from the remains of clay, silica, iron oxide, carbonate, and other earlier cementing components. Pure quartzite is a non-foliated, hard metamorphic rock that can be recognized by its tones going from pristine white to various shades of gray. However, thanks to varying quantities of iron oxide in it, quartzite will often feature a range of red and pink shades. Due to the presence of other minerals, quartzite will sometimes have various shades of green, orange, yellow, and blue. Because of its lovely looks, quartzite stone is used in decoration as well as building stone. It is used for floor, wall, and even roof coverings. One of the most popular uses is for kitchen countertops.


What are other quartzite varieties?

Popular quartzite varieties are White Macaubas, Mother of Pearl, Taj Mahal, and La Dolce Vita. There are many varieties. The important fact you should have in mind is that different fabricators have different names for quartzite varieties. Always ask your fabricator about the softness and purity of the quartzite you're considering. Also, ask for their experience with this particular stone.

Can I install a quartzite countertop by myself?

Quartzite is a very heavy stone and you won't be able to do this by yourself. You will need a professional installation carried out by a licensed contractor.

What is the best sealant for Super White quartzite?


Choose sealants made from silicones and other substances that fight off liquids. They will penetrate and soak deeper into the surface of Super White Quartzite, thus will last longer than topical natural wax, acrylic, or polyurethane sealers. You can hire a professional to seal your stone or do it by yourself. Wipe or spray the sealer on the countertop and let it dry. Make sure to follow product instructions and ventilate the room while applying the product and letting it dry.

How to choose the best Super White quartzite slab?

The Super White looks vary from slab to slab. Make sure to carefully examine each stone in your local slab yard. You can also get a piece of stone and take it home. See how it goes with the rest of your kitchen design. Don't miss this chance to examine the stone's hardness and durability yourself.
Contact Us Today for a Free Estimate on Super White Quartzite and Other Quartzite Countertops Options
There is no indestructible kitchen countertop but Super White Quartzite is an excellent option among many. Before you decide on purchasing this natural white stone, gather all the facts, learn quartzite countertops' pros and cons, and then bring a well-informed decision. Feel free to
contact Aqua Kitchen & Bath Design team
with any questions you might have about Super White. We will also give you a free, no-obligation estimate and show you all the Super White Quartzite slabs we have in our yard.
Like our Facebook page to receive kitchen and bath design tips and special promotions