Delicatus White Granite Installation in Pomona, NY
Delicatus White Granite is a beautiful stone with a soft light background and contrasting dark veining. Easy to clean, low maintenance, and very durable, Delicatus Granite is a perfect solution for a kitchen countertop. Recently we installed it in Pomona, NY.
Delicatus White Granite Countertop in Pomona, NY Kitchen
Pomona, NY is a village situated partly in the town of Ramapo and partly in the town of Haverstraw in Rockland County, NY. It is a lovely single-family village whose residents moved there so they could raise their families in a secluded, tranquil community. Some residents say that Pomona NY is as close to nature as you can get nowadays in NY area. The majority of Pomona residents moved there from more densely populated areas.
Pomona is located east of Harriman State Park, north of New Hempstead, north of Monsey and west of Mount Ivy. The population was 3,103, a 13 percent increase from the 2000 figure of 2,726, according to the 2010 Census. Pomona district includes unincorporated areas of the Towns of Haverstraw and Ramapo.
Pomona was named after the Roman goddess of fruit because, until about 30 years ago, Pomona countryside was wealthy with many farms and apple orchards. Today, however, Pomona is an upscale suburban community with median family income that is the highest in Rockland County – $43,163.
Aqua Kitchen and Bath Design Center Team went to Pomona NY in October 2017 to install beautiful Delicatus White Granite that was previously hand-picked by the homeowner at our granite slab yard. The slab features round edge and includes 27" single sink.
Here's what the homeowner Rita R. said after we finished the installation:
We had our countertops installed a couple of weeks ago and they are absolutely gorgeous! I dreaded going to look for and pick out a granite counter because of soooo many choices and price categories. But once we got to Aqua – all my anxieties went away. Soner (our Aqua Kitchen designer) was quick, knowledgeable and very accommodating. We were able to get the stone that I fell in love with without any sales pitches and for an unbeatable price. Soner calculated the square footage exactly-there were no other hidden charges – what was quoted was what we paid. Once our cabinets were installed and I called Soner at Aqua, the templating and the install were done within a week! Both the templating and the installation were done by a very professional crew who took their time to measure precisely and accurately and to seal all the little seams, which really didn't even need it because the stone was measured and cut so precisely! I was very worried about the peninsula piece carried up into the house because it was so big and heavy (8'5" by 4'). But all went perfectly. We are so so thankful to Aqua Kitchen and Bath Design Center for making this a really nice experience! We would highly recommend Aqua Kitchen to anyone who wants a great product at an unbeatable price professionally installed! You can't do any better!
Delicatus White Granite Uses
Delicatus White Granite is great both for indoor and outdoor uses. Its properties are good for freezing climate, exterior usage, commercial, and residential uses. Delicatus Granite is also Greenguard Indoor Air Quality Certified®.
Delicatus White Granite properties make this natural stone perfect for kitchen, bathroom, mudroom, and other residential and commercial rooms countertop, flooring, wall, accent walls, and backsplash uses. This natural granite stone that comes in slabs allows continuity of design and style from the bathroom and indoor kitchen to outdoor kitchen, and other outdoor uses. Fireplaces, tub surrounds, showers, and vanities with Delicatus Granite look beautiful and have excellent performance and durability.
Delicatus White Granite Origin and Looks
Delicatus White Granite is quarried from a bedrock in Brazil. It doesn't have any other common names.
It features a soft white background with beautiful, contrasting rich, dark veins. Delicatus Granite primary color is white and it usually comes with a polished finish. The soft white background is contrasted with strong, stunning dark veins. From afar, Delicatus White overall looks white but it still does not have a uniform appearance as its magnificent mineral deposits are clearly visible. When you get closer to the slab, you can clearly see these black biotite crystals that give Delicatus White Granite a modern, stunning, and pristine look.
The bedrock of Delicatus Granite is icy white but it can vary in color – from mainly pure white to slightly blue tinges. Three main minerals are intertwined with white bedrock. The most noticeable mineral is a dark, almost black one. This mineral contrasts boldly and strongly against the Delicatus bedrock. The black mineral usually takes between 30% and 60% of the granite's surface. It is usually black, but can also be a very deep blue color.
The light gray mineral is another mineral that takes its place in Delicatus White Granite. The gray mineral can be diluted across the granite surface and it can be concentrated in some surface areas. These minerals decide the overall look of the stone which means that granite can range from medium gray to very light gray. Gray mineral in Delicatus White Granite usually takes anywhere between 20% and 60% of the stone surface.
The creamy brown mineral that is usually light tan brown is also present in Delicatus White Granite. This mineral is not so common, but it makes this granite truly unique as some slabs can have lots of it. It usually takes place in both stone's veins and isolated specks.
A wealth of white quartz crystals is also characteristic for Delicatus White Granite. Most common are subtle, almost invisible white quartz crystals. However, sometimes the crystals can also take about 10cm in diameter in a slab.
Some Delicatus White Granite slabs feature a very deep blue mineral. However, those that do – look stunning! Metallic blue look and shine give the stone shine and luxurious appearance.
The unique look of Delicatus White Granite countertops is achieved by granite slabs book-matching. This means that Delicatus slabs are cut and polished to create a mirror image of each other. A consistent flow in the pattern is ensured with slabs being kept in sequence. The back of the stone is ensured with a backing mesh. This gives safety while handling, fabricating, and installing the slabs.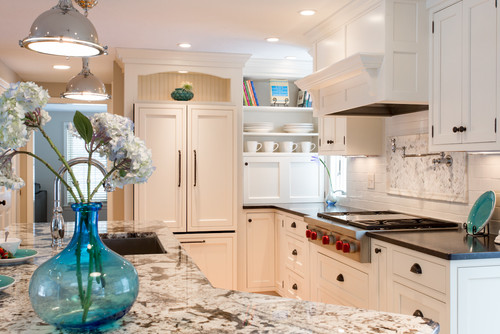 Delicatus White Granite Maintenance
Delicatus White Granite is a natural stone product. As such, it is recommended to be sealed regularly in order to extend its longevity and impeccable performance. On a daily basis, just make sure to wipe spills as soon as you can. Mild detergent and soft cotton cloth are enough for maintaining it on a daily basis. Never use bleach, vinegar, or scrubs. This durable granite countertop does not stain easily, despite its light coloring.
Delicatus White Granite Price
Delicatus White Granite price is $55.00 per sq ft installed – with no hidden fees. We give you a free estimate, free edge treatment, free fabrication, a free stainless sink, and free installation. Our team will fabricate the Delicatus White Granite slab of your choosing using professional cutters and professional equipment, on site. Then they will seamlessly install your new countertops.
Delicatus White Granite with White Cabinets
Delicatus Granite fits perfectly with many kitchen designs, styles, and colors because of its neutral, yet bold appearance. However, Delicatus White Granite with white cabinets is the most popular combination. Icy white bedrock smoothly and consistently blends with both stark white and off-white kitchen cabinets. At the same time, black, gray, deep blue, and creamy brown minerals create strong, stylish contrasts.
Delicatus White Granite is also often combined with dark cabinets. This is the situation when countertop lights up the room and becomes the centerpiece and a focus point.
Choose Delicatus White Granite for Your NJ Kitchen
Choosing Delicatus White Granite for Your NJ home will be a great decision. Its superb durability, incredible ease of maintenance, and extraordinary, unique looks will satisfy everything that you may need from a kitchen countertop. Aqua Kitchen and Bath Design Center granite slab yard is conveniently located in Wayne NJ, so you can stop by and hand-pick the slab that you like the most. We will guide you and give you all assistance you may need, give you a quote, and install your Delicatus White Granite countertop within a week. Whether you live in Wayne, Pomona, Paterson, Clifton, anywhere in the state of NJ or in the neighboring states, and you're planning on a kitchen remodel, stop by our granite slab yard. You can also learn all about Granite Countertops Installation and how to choose the best slab. We'll be happy and honored to help you design the kitchen space of your dreams. Take a look at our selection and deals on granite countertops and Contact us today.
We would love to know if you like Delicatus White Granite and what are your kitchen remodel plans. Please let us know in the comments below!