Giallo Ornamental Granite for Warm & Elegant Kitchen Design
Have you ever had the feeling of coming back to the home of your childhood when entering your kitchen? Have you ever felt that objects around us can inspire, enrich and sunbathe our souls in the middle of the winter? Materials that nature gave us have the power to do this. They affect us this way. Giallo Ornamental Granite is a natural stone that evokes the warmth of a sunset, elegance, and calmness. This material was popular before and is still equally appreciated among homeowners, contractors, designers and builders.
Giallo Ornamental White Granite – Impeccable Unique Looks
Granite countertops can be found in many colors and patterns. Giallo Ornamental is white granite. Although it is known for its golden, beige and creamy tones, the bedrock of this stone is white. It also has bronze, gray, and light brown specs. With its nice, serene flow, it will hide any crumbs that might appear on your kitchen countertop. From a distance, Giallo countertops will show quite uniform, overall beige and creamy. At this point, you won't be able to see all the wealth of veins this amazing natural stone possesses. However, it will show just enough to take your attention and make you take a better look.
When you come closer, you'll see more. Giallo Ornamental white granite also has light gray or light honey color. This makes a perfect neutral backdrop for all the additional details – stunning veins and minerals in Giallo. A wealth of golden minerals is widespread throughout Giallo Ornamental white granite. These minerals can go from light cream color to honey and dark brown color. The specs usually take half of the stone's surface. They wonderfully complement the bedrock of Giallo Ornamental white granite.
Giallo Ornamental Light vs Dark
Giallo granite countertops can be seen in both lighter and darker version. Giallo dark has white bedrock with a lot of dark brown specs. They appear almost black. Giallo light possesses more of cream bedrock with brown specs as the darkest color. However, each granite slab differs and is completely unique. This means that you should carefully choose the slab for your bathroom and kitchen. Make sure to take a sample with you. Test it at home with your kitchen cabinets, flooring, and lighting.
Whether you choose Giallo granite Light or Giallo granite dark, know that both options are highly valued. They are top-ranked. Just make sure which Giallo type would work best in your kitchen. Then start with the planned remodel.
Giallo Ornamental Origin and Use
This is a natural granite quarried in Brazil. It is recommended for kitchen and bath countertops, as construction and ornamental stone. Sometimes, Giallo is called Giallo Santo Granite. Occasionally, you will also find it under names such as Amarelo Ornamental, Yellow Ornamental, Amarillo Ornamental, Giallo Ornamentale, Ornamental Yellow. Giallo granite kitchen countertop is one of the most popular types of granite ever. Homeowners love to use it in floor tiles, fireplaces, bathrooms, and, above all other places and rooms, in a kitchen.
Since Giallo is considered white granite, it is especially used in small kitchens. Interior designers who follow the rule – choose light colors for small spaces – love to upgrade small kitchens with this stone. Giallo will make your kitchen feel more spacious as well as full of warmth. In spite of an abundance of its specs and minerals in different colors, Giallo is pretty consistent. It won't vary too much in rooms with different lighting conditions. Giallo granite presents a good choice for rooms with and without much natural light or kitchen lighting. Simply, it will take you in on its own, with its deep, warm light. For this, Giallo granite doesn't need any additional light.
Giallo Ornamental Granite Countertops Care and Maintenance
Giallo white granite is stain and scratch resistant. Thanks to its color and its spotted presence, it will hide your fingerprints and crumbs. Usually, the countertop will be sealed once it's installed by the fabricator although it's best to seal it once a year. As all light granites, Giallo needs this in order to decrease water absorption.
This is the only matter that needs to be taken care of with Giallo granite. On an everyday basis, just wipe its surfaces with a cotton cloth, warm water, and diluted dish soap. With its warmth and elegance, toughness, durability and low maintenance, Giallo will convince you that it's the best countertop you could ever find for your home.
Giallo Ornamental Price
Giallo granite is popular because of the many of its qualities – impeccable looks, low maintenance, and strength. One other thing is also important. It's the one that makes this stone an absolute favorite of many – its price. Aqua Kitchen & Bath Design Center provides Giallo granite price in New Jersey for only $45 per sqft installed.
Giallo Ornamental Granite's Irresistible Versatility in Kitchen Design
Interior designers love to use Giallo granite. Both Giallo Ornamental light and Giallo Ornamental dark option are equally used. Giallo granite colors and natural design are generally considered a safe bet in the process of a kitchen renovation. Both homeowners and designers agree to love it. Internet space is full of Giallo granite pictures and Giallo granite reviews. And it's no wonder. Giallo is incredibly versatile with its white to honey bedrock and the whole spectrum of its minerals, from light cream to honey and dark brown, almost black color. It is equally used in small and big, dark and light kitchen spaces. It is easy to see how Giallo granite successfully adjusts its appearance to different spaces.
Giallo Ornamental Granite with White Cabinets
Giallo Ornamental Granite with white cabinets opens up the kitchen space. White cabinets will make Giallo Ornamental granite look darker than it actually is.
Giallo Ornamental granite with white cabinets opens up and visually expands small spaces.
Armstrong Interior LLC designed this wonderful kitchen in Pittstown, New Jersey, using white kitchen cabinets and Giallo Ornamental granite. You can see how the stone beautifully complements and enriches the cabinets.
Giallo granite also works perfectly in a space with both white cabinets and wood kitchen furniture. Giallo shades connect two different colors and invite them to work together with one goal. The goal is to create an elegant and warm kitchen space.
Giallo Ornamental Granite with Dark Cabinets
When paired with dark kitchen cabinets, Giallo Ornamental Granite will appear lighter. It will create beautiful, subtle contrast between the dark cabinets and light countertops.
Since it is white granite, Giallo Ornamental will light up black kitchen cabinets and dark spaces.
Giallo colors simply flow when combined with wooden cabinets. Their golden, honey, brown and earthy tones manage to wonderfully complement the cabinets. You may think that this countertop – cabinet combination will blend together. That couldn't be farther from the truth. Giallo granite with wooden cabinets, with maple cabinets or cream cabinets, creates a natural, smooth, brimming and luxurious effect.
This combination of light & dark Cherry Decora cabinets and Giallo granite was designed by M.J. Whelan Construction from Michigan. Stunning glass backsplash, two separate islands, and modern light fixtures contribute to this truly unique kitchen. Large window provides an amazing light where Giallo Ornamental shines in its full beauty.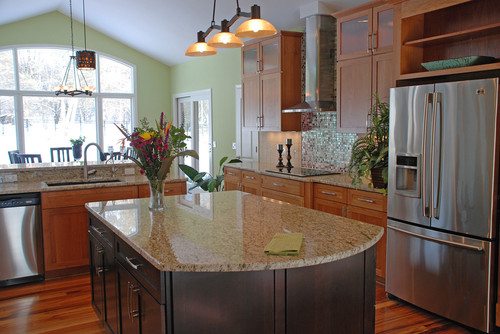 Giallo Ornamental Granite with Backsplash
Pairing Giallo granite with kitchen cabinets is easy. Picking a backsplash for your Giallo granite won't give you any trouble either. Perfect backsplash for Giallo can be ceramic subway tiles or mosaic backsplash. Backsplash ideas for this granite countertops are inexhaustible.
Giallo Ornamental Granite Reviews
Giallo Ornamental granite reviews usually show the problems that people meet when looking for the right Giallo granite slab. This granite has different golden, beige and creamy tones with bronze, gray, and brown specs. Because of the wealth of different colors and shades, this stone pairs beautifully with different backsplash and cabinet types and colors. However, each Giallo slab is different and in Giallo Ornamental granite reviews you will often find statements from customers who claim that the stone color is much darker or lighter than the color sample fabricators display. In one of the Giallo Ornamental granite reviews, a customer found it frustrating not being able to find a Giallo slab that was predominantly beige. Also, you'll find in some Giallo Ornamental reviews that searching for the typical light colored Giallo Ornamental is impossible and that you'll always get a darker, brownish color.
All of these troubles stated in different Giallo Ornamental granite reviews can be avoided. Always make sure to find the local granite fabricator. Go to the slab yard or granite showroom and take a sample of the granite you want to see in your kitchen. Put in your kitchen and see how it pairs with the cabinetry, flooring, and backsplash. This way you will always get what you pay for.
Giallo Ornamental Granite Pictures
Giallo Ornamental granite pictures can be found everywhere on the internet. You can search for them with white cabinets, with black cabinets, or with backsplash.
This elegant kitchen features an undermount sink, dark wood cabinets, recessed-panel cabinets, and granite countertops.
This beautiful kitchen features farmhouse sink and white granite countertops.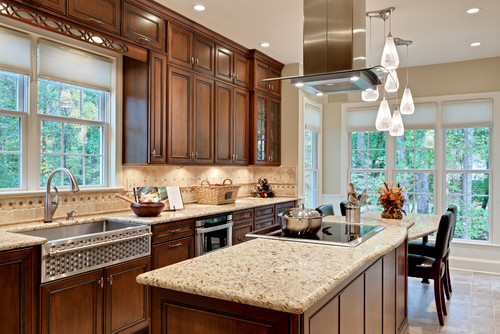 This is classic kitchen design with this beautiful stone.
While Giallo is often used in the kitchens, the use in bathrooms is not behind either. Armstrong Interior LLC created this wonderful bathroom design in Flemington, New Jersey.
Giallo Ornamental Granite Kitchen – One of Aqua's Favorites
Aqua Kitchen & Bath Design Center recently completed a renovation in Saylorgsburg, PA. The kitchen had dark kitchen cabinets already installed. Giallo Ornamental Granite successfully managed to make this kitchen a warm and welcoming space. The homeowners won't have to worry about additional details to bring in the warmth to the kitchen. No matter their further decisions, Giallo will always provide an inviting and warm feeling. This light colored granite makes any space feel bigger. Its rich and classic look adds luxury as well as the feeling of openness and airiness. With its natural design, the choice of cabinet colors with these countertops is endless. However, dark kitchen cabinets were the right choice for this cooking space, because of this amazingly natural contrasting effect. Read more about this Giallo kitchen renovation here.
Whether your kitchen is big or small, with light or dark cabinets, Giallo will be the perfect addition and upgrade to it. It will open up and brighten the space. It will create subtle and natural contrasts, flowing kitchen designs that are impossible to achieve with other countertop stone options. We know we're not poetic but realistic when we say that Giallo granite will invite sun and warmth into your kitchen. It will make you, your family and guests feel cozy. It will continue to inspire you every day.
We invite you to consider Giallo Ornamental Granite for your kitchen renovation and to take the first step by visiting our showroom. Our professional staff will help you choose the best slab for your kitchen space and give you a sample to take home and make sure that its colors truly fit your space. We will also provide a free kitchen design.

Like our Facebook page to receive kitchen and bath design tips and special promotions
Giallo Ornamental Granite